Apple launches back-to-school deal – in May?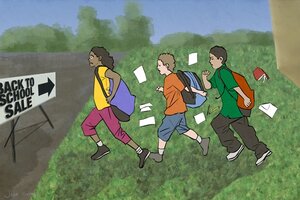 Jake Turcotte
Leaves are falling, the air's getting crisp – better start stocking up on number-2 pencils and boxes of Kleenex. What's that you say? It's May?
In a move that seems better suited to August 27 than May (or April 1), Apple today rolled out its back-to-school deal for students, offering up to a $229 rebate when they purchase a qualifying Mac and iPod in the same order.
AppleInsider has a thorough rundown of the promotion's details and requirements.
Sure, this deal comes at a great time for college students desperate for a new machine to finish that term paper before finals, but everyone else may be better off waiting for the real back-to-school season – or at least a few weeks.
As any Mac fan will tell you, it's no secret that Apple in the past has used its back-to-school promotion to clear out old inventory to make room for new products. And though news of a spec-bump for Apple's entry-level white Macbook accompanied the launch of this year's promotion, the same caveat applies.
There are no guarantees, but chances are that a little purchasing patience will reward next year's freshmen with newer, faster, bigger, or maybe smaller hardware. (Because what could be worse than rolling up to campus, mom in-tow, with a computer that's – gasp – four months old?)
---
Follow Stories Like This
Get the Monitor stories you care about delivered to your inbox.