Report: MySpace sinking fast, but Facebook soars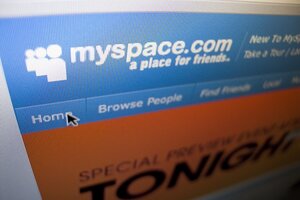 Newscom
Once the reigning social network, MySpace has been sent tumbling off its throne, according to the media research firm Nielsen.
In a new report, Nielsen reveals that Facebook users spent an extraordinary 13.9 billion minutes on the site – in the month of April alone. Lagging far behind, at 5 billion user minutes, is MySpace, the network launched in 2003, and purchased by News Corp. in 2005. For years, MySpace was the go-to networking site, but it recently lost significant ground to Facebook and Twitter.
If the billions of minutes spent on Facebook aren't dramatic enough for you, consider this: April's figure represents a 699 percent increase over the same time last year. By comparison, time spent on MySpace is down 31 percent since 2008 – a ominous figure by any stretch of the imagination. "MySpace is not firing on all cylinders like Facebook," social networking expert Ray Valdes told CNN.com today. "Their effort to improve the site seems to be fragmented. They need to get on track or they will continue to slide."
Tweet happy
---