For a moment, Bing edges ahead of Yahoo, but this race is far from over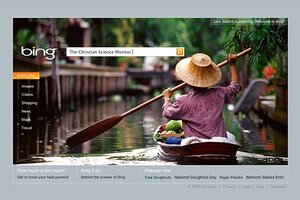 Microsoft
It was the news that Microsoft CEO Steve Ballmer had been hoping for: Yesterday, Bing, the shiny new Microsoft search engine, took another (small) step toward knocking Google off its perch at the top of the fractious search heap. According to figures released by StatCounter, an analytics service, for a brief moment on Thursday, Bing edged ahead of Yahoo, to capture second place behind Google, the reigning powerhouse.
The figure, which had Bing at 5.56 percent of searches conducted in the US – over Yahoo's 5.17 percent – was temporary, and was far outstripped by the 71.99 percent share claimed by Google. Furthermore, by Friday morning, Yahoo and Bing were scrapping again – one figure, published by PC World today, put Yahoo back in second place with 10.75 percent of US searches, over Bing's 10.08. When examined on a global scale, Bing had fallen even further behind – 3.73 percent to 5.55 percent – Yahoo in user searches.
---
Follow Stories Like This
Get the Monitor stories you care about delivered to your inbox.