iPhone owner thinking of upgrading? Cha-ching!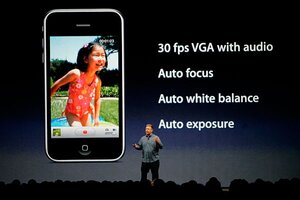 Jeff Chiu/AP
From the "Bring your rich uncle" department:
The new iPhone 3GS, the faster, larger-capacity, video-capable offering from Apple, has been heralded from Cupertino to Croatia, with attractive pricing that seems likely to draw even more customers to the most popular smart phone on the planet (and away from the just-released Palm Pre).
Something that is well known about the $99, $199, and $299 price points of the new line of iPhones is that they require customers to sign a two-year AT&T service contract, but less-advertised (and in really fine print on the iPhone product page) is the fact that existing customers must pay a premium to upgrade. How much depends on whether you listen to Apple or AT&T.
Apple's fine print puts the existing-user tax at $400. That's $499 for an 8 GB iPhone 3G, $599 for the 16 GB 3GS, and $699 for the new 32 GB model, according to Apple.
---