iPhone 3G S reviews are in – and so's OS 3.0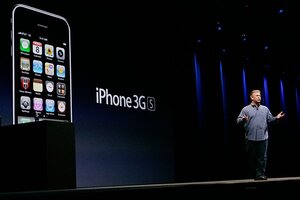 Paul Sakuma/AP
Those tech journalists blessed by Apple to have received review units of the iPhone 3G S have just released their reviews of the updated smart phone, available to mere mortals on Friday. What's the verdict? Read on!
First, a recap: The new iPhone was announced June 8 at Apple's Worldwide Developers' Conference in San Francisco. It promised faster processing, larger storage capacity, video recording, voice control, a better still camera, better battery life, and an improved fingerprint-resistant screen.
Here's how the 3G S stacks up.
Battery life
On my 3G iPhone, I usually could make it through the day, but it was often a close call, with the battery indicator winding up in the red. By contrast, the new model did much better, never hitting the red zone and rarely requiring interim charging at the office or in the car, even though, because I was testing it, I was pounding it much harder than usual, making more voice calls, playing lots of videos and music, trying numerous apps, constantly downloading email from two accounts, and syncing two calendars over the air. – Walt Mossberg for the Wall Street Journal
---
Follow Stories Like This
Get the Monitor stories you care about delivered to your inbox.