Apple bruised over Jobs health (non)disclosure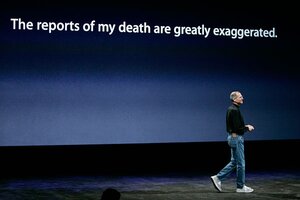 Paul Sakuma/AP/File
The Wall Street Journal reported Friday that Apple CEO Steve Jobs had received a liver transplant in Tennessee two months ago (and the hospital's confirmation) shook the technology world, and many – though sympathetic to Mr. Jobs' right to privacy – aren't pleased.
Apple at first said Jobs was fine, then Jobs himself called his condition minor in a note explaining his six month hiatus from daily duties at Apple. The company has yet to release a statement about his liver transplant.
Cult of Mac editor Leander Kahney says Apple ran afoul of SEC full disclosure requirements by understating the severity of Jobs' condition. Mr. Kahney quotes Dartmouth Corporate Communications professor Paul Argenti: "The difference between a nutritional imbalance and a liver transplant is huge," he told Mr. Kahney. "If this is not a legal issue and a Regulation FD issue, I don't know what is." SEC action or no, the biggest hit, according to Argenti, may be to Apple's credibility.
"Clearly, this is going to affect not only Apple's customers but employees that were lied to or kept in the dark about what was going on," Argenti said. "Apple is one of the most admired companies in America and this is how they deal with this kind of news? It's unacceptable, unethical and irresponsible to all constituents."
---
Follow Stories Like This
Get the Monitor stories you care about delivered to your inbox.