Second guessing Twitter's effect on post-election Iran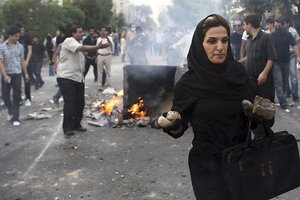 AP
In today's Boston Phoenix, media critic Adam Reilly offers a typically sober analysis of Twitter's role in post-election Iran. His take: the social network allowed outsiders a view into the turmoil on the streets of Tehran. Even more important, it allowed Americans to discuss, vet, filter, and label news that might otherwise have gone unread.
But Reilly – like an assortment of like-minded media critics – is skeptical that anything conclusive can be said about Twitter's direct effect on the protests. First, Reilly argues that Twitter has played such a "vital newsgathering role" mostly because many veteran journalists were either constrained by the Iranian government or forced to leave Iran. In a situation less punishing – say the ongoing Mark Sanford debacle – Twitter probably wouldn't have as much clout. The reason: trained reporters would still be able to function in a traditional manner.
---
Follow Stories Like This
Get the Monitor stories you care about delivered to your inbox.