Apple jacks: iPhone will use EU's universal phone charger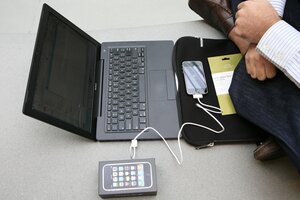 Mark Lennihan/AP
One cord to rule them all.
Apple today joined the European fellowship for a snarl free future – a coalition of major device makers that agreed on a single kind of cord that will power all of their smart phones. Earlier this year, the list included AT&T, LG, Motorola, Nokia, Orange, Qualcomm, Samsung, Sony Ericsson, T-Mobile, and Vodafone.
But Apple held out. The company has had a curious relationship with technology standards. It evangelized FireWire as a speedy connection for gadgets and computers, but recently stopped including the jacks in many of its new laptops. It embraces AAC for audio and H.264 for video – but concocted many proprietary standards over the years.
Now, it's joined the micro-USB bandwagon. The effort evolved out of a European Union request to cut down of the obsolescence, e-waste, and energy consumption that plagued the old system. New phones often come with completely different cords, sometimes making the originals useless within a year. Also, the EU wants engineers to focus on a single format so that they can cooperate on reducing "vampire power" – the energy drawn when a gizmo is plugged in but the battery is already full.
---