New York Times weighs charging users for access to NYTimes.com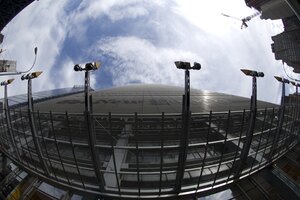 Frances M. Roberts/Newscom
Put your ear to your computer. You hear that collective wailing? Yeah, that's the sound of a thousand "content-should-be-free" purists howling in unison.
In a recent survey, the New York Times asked its subscribers whether they would be willing to pay a fee of $2.50 a for access to NYTimes.com, Bloomberg News reported today. The survey stated that "The New York Times website, nytimes.com, is considering charging a monthly fee of $5.00 to access its content, including all its articles, blogs and multimedia."
Under this hypothetical plan, current subscribers to the Times would pay a reduced rate of $2.50 for access.
Grim days
It's been a bad year for the newspaper industry, to say the least. Ad sales have plummeted; subscription rates have plunged; the sinking economy has taken its toll on an industry already turned on its head by the rise of the Internet. Over the past few months, many outlets have significantly cut back on their print operations.
In February, The Rocky Mountain News, the oldest newspaper in Colorado, shuttered its presses, and in March, the Seattle Post-Intelligencer stopped printing.
---