In Alaska, Sarah Palin squares off against the blogosphere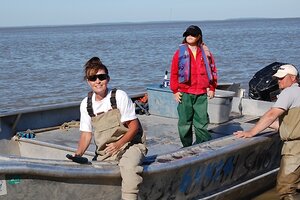 Sean Cockerham/Anchorage Daily News/MCT
In the battle of Sarah Palin vs. Shannyn Moore, there is at least one winner: the lowly weblog.
Although much has been made in recent years of the power of the Internet to change politics – the netroots, the unlikely rise of Howard Dean's web-fueled candidacy, the multimedia machine that helped send Barack Obama to the White House – it's rare to see one personal blog play such a major role in American politics.
Well, welcome to Alaska, where the bloggers have clout, the Twitter feeds run free, and one very angry "Mama Grizzly" has aimed her ire in the general direction of the World Wide Web.
Earlier this month, when Sarah Palin announced she was stepping down as governor of Alaska, she claimed she no longer wanted to "appease those who demand: 'Sit down and shut up.' [That's] the worthless, easy path; that's a quitter's way out," Palin said. "And a problem in our country today is apathy. It would be apathetic to just hunker down and 'go with the flow.'"
A day later, in a four-page public letter, Palin's office lashed out at the media. Her beef: several bloggers had reported as fact that Palin resigned to avoid implication in a political scandal. (Specifically, the bloggers alleged that Palin awarded the construction contract for the Wasilla Sports Complex to Spenard Building Supplies in exchange for help building her own home.)
---