After 1.5 billion downloads, is it time for Apple to redesign the App Store?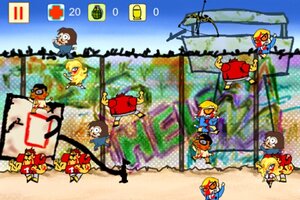 Courtesy of Retarded Arts
Sometimes, the qualities that makes a product great are the same qualities that makes it such a huge headache. Take Apple's App Store. Here's an invention that has transformed the iPhone – already a font of cultural cache – into the hottest new gaming platform around.
By lowering the fee for fledgling developers, and opening their doors wide, Apple has ushered in a new generation of whip-smart titles – games created not by a sprawling corporation in California, but one dude working out of his mom's basement.
Last week, Apple announced that it hit another landmark: 1.5 billion applications downloaded.
At the same time, the App Store's relatively low bar-of-entry has yielded a couple media firestorms. In April, for instance, the "Baby Shaker" game hit the market. The idea for the game was pretty simple: quiet down a baby by shaking your iPhone or iPod. Shake long enough, and a couple of X's materialized over the baby's eyes.
After child protection groups protested, Apple yanked the game off the market. A month later, the same ruling was meted out to "Me So Holy," an application which let users snap a photo of themselves, and affix it to the body of Jesus.
---