Astronaut's life: no shower, sleep anywhere, cramped dinner table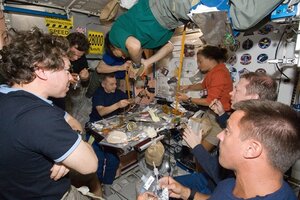 NASA/HO/AFP/Newscom
With the crew aboard the International Space Station packing up Endeavour for its return flight to Earth, several astronauts reflected on life in zero-G.
Today marked the fifth and final spacewalk with a jumbo-sized crew. The station hosted 13 people, a record. And with so many bodies in such a tight space, how is space life different from back at home? Let's start with:
Can you get a good night's sleep?
"We sleep very well in space," says Canadian astronaut Julie Payette during a broadcast by NASA. "We have a sleeping bag each, and when you get into it you float in the sleeping bag. The sleeping bag floats in the module. So all you have to do is just attach it somewhere, which is a good idea by the way because during the night while your sleeping you might start drifting and end up somewhere you didn't intend to be in the first place."
How about a shower?
"Of course, we're in weightlessness, so a shower head with water dripping on top of your head would not work," Ms. Payette says. "We don't have a shower. We don't even have a faucet or a tap."
To work around the lack of gravity, the station uses a "squirt gun that shoots water and a wash cloth," reports Space.com. "They also have a special rinse-less shampoo to keep their hair clean."
Where do you eat?
---