Report: Ad for new Apple gadget filmed at Calif. diner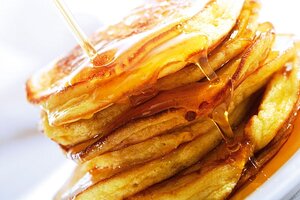 Newscom
OK, so it's a rumor. But it's an Apple rumor, and we all know how excited some folks get at the slightest mention of something new from the Cupertino company.
Truckee, California's Jax at the Tracks was the site of a closed Apple advertising shoot, proprietor Bud Haley told the Sierra Sun. "Apple found us, they're trying to show us as a hip and cool spot for the 20-something crowd," he said.
Word of the ad set off a flurry of speculation on what the unreleased product could be. Both BusinessWeek and 9to5Mac, in analyzing the choice of a diner as the location for a commercial, point to the impending arrival of the much-rumored Apple tablet computer.
"Well I don't know about you, but when I'm in a diner, and if I'm eating alone, I tend to read a newspaper or magazine," BusinessWeek's Arik Hesseldahl writes. "It's pretty clear the device in question is the rumored tablet."
---