Talk Like a Pirate Day 2009 - arrrrrrr you ready?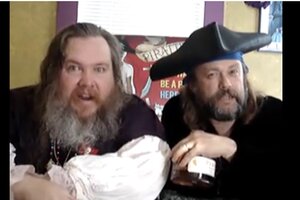 YOUTUBE
It's the most wonderful time of the yarrrrrr. Yes, it's International Talk Like a Pirate Day.
Actually, it's tomorrow, September 19. But that's no reason we can't prepare for this very special celebration a day arrrrly.
For those of you well-versed in what should be a federal holiday, you'rrrrrre all set for the festivity. (OK, we'll knock it off with all the arr's).
But that's basically all you have to do. Say "arrr" a lot. Do that and you're celebrating. Woo-hoo!
Easy to understand why this is such a big phenomenon, isn't it?
Well, like most other things that have taken off in the last few years, it's the Internet that's fueled it. Although it hasn't amassed the 126 million times the "Evolution of Dance" video has been watched, there are more than 1,500 "Talk Like a Pirate" videos on YouTube, and more than 12 million websites dedicated in some way to the holiday.
Now this doesn't compare to the 271 million websites that come up when you search for Christmas. Or the 35 million sites for Thanksgiving. But it clobbers Flag Day (1.3 million). And St. Patrick's Day (6.8 million). Even President's Day doesn't come close, with only 1.1 million.
---