Zipcar parks its iPhone app – finally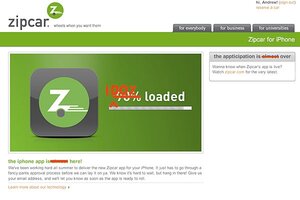 Zipcar/photo illustration
From the "iPhone MMS? Meh." department.
Does it seem like iPhone users have been saying "finally" a lot lately?
Apple on Monday approved an iPhone application from car-sharing company Zipcar that allows users to find nearby cars, make reservations, and unlock a reserved car's doors from the device's touchscreen. The app, announced in July, had been stuck in Apple's approval process.
For the uninitiated, Zipcar offers hourly car rentals to members in Atlanta, Boston, Chicago, London, New York, Philadelphia, Pittsburgh, Portland, San Francisco, Seattle, Toronto, Vancouver and Washington DC. Reservations are made online, and the "check-out" process makes innovative use of RFID cards and custom built-in cellular modems.
---
Follow Stories Like This
Get the Monitor stories you care about delivered to your inbox.