Meghan McCain Twitter photo: online overshare 101
(Read article summary)
John McCain's daughter got a crash course on what not to do with social media, posting a playful – and some say racy – photo of herself on Twitter Wednesday night.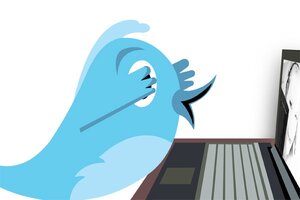 Jake Turcotte/The Christian Science Monitor
It was supposed to be an innocuous image – a playful snapshot of Meghan McCain's "night in" with Andy Warhol's autobiography.
But the self-taken image of a pouty Meghan McCain, daughter of former presidential candidate Sen. John McCain, posted to TwitPic Wednesday night – and her profanity-laden Tweets in response to other users' comments – has caused an uproar, and serves as an important lesson for the share-happy set.
Twitter can be something different to everyone who uses it. For one thing, there's no manual. We've seen it used as operatic inspiration, as personal shopper, even as interview platform – who can forget the "Twitterview?" It can also be a powerful tool under an oppressive government as we saw in Iran, or a great crowd-sourced fund-raiser.
But one thing that's rarely trumpeted in the headlines is that Twitter can be a great instrument of self-destruction. Sure, celebrities get most of the headlines (see: Miley Cyrus, John Mayer), but too much opining online can lead to serious offline trouble.
---