Meteor shower tonight! Orionid meteor shower begins at 1 am
(Read article summary)
Meteor shower tonight? Yep, peak viewing times for the Orionid meteor shower begins tonight (er... tomorrow) at 1 am.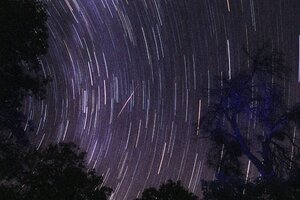 NEWSCOM
November Update: If you're looking for information on the Nov. 16 to 17 meteor shower, check out Leonid meteor shower times: When you should look skyward

Are you ready for some meteors? Tuesday night party! Well, that's how the song might go if Hank Williams Jr. was singing the pre-game to tonight's Orionid meteor shower.
But as far as we can tell, Williams isn't adding this to his Monday Night Football schedule and we couldn't find the pre-game party anyway.
But that doesn't mean the show's not going to go on. Anything but. Tonight and tomorrow morning are the peak viewing times of the Orionid meteor shower.
Monitor colleague Pete Spotts suggests you don't go to sleep tonight. Or if you do, do it now and set your alarm for 1 a.m. because that's when -- as Deoin Sanders would say -- it's "prime time." (By the way, the 1 a.m. schedule is good no matter what time zone you live in, which makes it convenient to remember).
The viewing should be good until dawn. Right before sunrise could even be the best time to view.
That's a lot of rocks
Although the Orionids historically have produced between 10 and 20 meteors an hour, it's trending high.
---