Happy Halloween! Bing celebrates Halloween with Vampire Bat
(Read article summary)
Bing says Happy Halloween by displaying a Vampire Bat on its home page.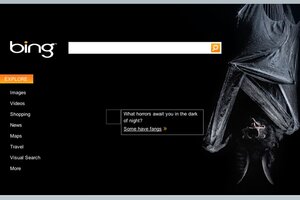 BING screengrab
How do the most popular websites celebrate holidays -- like Halloween?
Check out Bing -- the latest search offering from Microsoft. They certainly got into the spirit today. While Google salutes the time-honored tradition of trick-or-treating, Bing goes for the spookier approach by displaying a giant, hanging bat on its home page.
No, not a bat like A-Rod's baseball bat (which has, incidentally, not been very scary at all thus far in the Series), but as in a Vampire Bat. You know, the bat that "vants to drink your blood."
Trick or Treat?
If you mouse over the bat or different parts of the festive black and orange display, you can find some interesting seasonal facts. Well, facts as in fiction (in some cases).
Like they point to a page discussing the legendary "Chupacabra" -- a newer type of monster in the same vein as Bigfoot, Yeti, or Nessie. Chupacabra means "goat sucker" and as you could probably surmise, the monster (which debuted in 1995) has a thing for goats.
Other parts of Bing's home page links to other terrifying things -- like dogs in Halloween costumes. But who are we to judge? We created a Halloween Dogs photo essay yesterday.
---