So you've got Google Wave. Now what?
(Read article summary)
A Google Wave invite may have been a hot eBay commodity, but what do you do with it once you get it?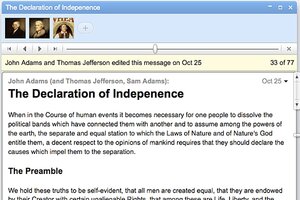 It's not even Thanksgiving, but many around the Web may be excused for having that Christmas morning feeling – their Google Wave invite has arrived!
Google had promised this, of course.
The company sent out 100,000 of the golden tickets at the end of September. Yet many, try as they might (even on eBay), couldn't get their hands on one. But, as Google CEO Eric Schmidt confirmed in a chat with reporters in Cambridge, Mass. earlier this month, more were on the way. He said that Google was "getting ready for a broader distribution very soon – weeks, not months."
We here at Horizons were the recipients of a few invitations this week, and, though they're no "Red Ryder carbine-action, two hundred shot Range Model air rifle with a compass in the stock and a thing which tells time," we were pretty excited. After all the hype (we contributed, too) the whole Web was pretty stoked. Who wouldn't want to use "what email would look like if it were designed today"?
Now what?
The thing is, what does one do with a Google Wave invite? The service feels like it should come with that classic Christmas-morning caveat: batteries not included. Well, not batteries so much as other users. Part (or even all) of Wave's appeal is its ability to bring multiple users together in collaborative conversation – eschewing email, IMs, and other "that's-so-20th-century" forms of electronic communication.
---