Avatar to surpass Titanic as Hollywood's most successful movie of all time
(Read article summary)
Barely one month after its release, the 3-D epic Avatar is $2 million away from sinking Titanic's record.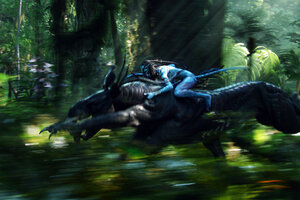 Newscom
By Tuesday morning, "Avatar" will likely be the top grossing movie of all time.
As theaters reported their weekend figures today, James Cameron's 3-D movie came within $2 million of claiming the record. "Avatar" has raked in more than $2 million on most weekdays, so expect Hollywood to crown a new king tomorrow.
The current tally stands at $1.841 billion worldwide. Cameron's last major film, "Titanic," hit ice at $1.843 billion.
This sudden rise comes with a few curiosities:
First, the power of Hollywood as an American export
Many US conservative groups have written off "Avatar" as a 160-minute liberal, tree-hugging, pagan, anti-American diatribe. Whether or not such messages lie in the forests of Pandora, foreign audiences have flocked to the science-fiction movie. Seventy percent of its earnings came from overseas.
Few of 2009's other top films share such a pronounced split. "Harry Potter and the Half-Blood Prince" came close with 67 percent of ticket sales coming from abroad – but most releases dipped below 50 percent.
But don't think Avatar has tottered domestically. In the US, it's come in first place for six weeks in a row. If you only count American ticket sales, "Avatar" is again the No. 2 top-grossing movie of all time. But the margin between it and "Titanic" is much greater: $600 million to $552 million.
---