Apple Tablet already a favorite among developers
(Read article summary)
A recent survey shows that the overwhelming majority of developers are keen on working with the forthcoming Apple Tablet. That's good news for Apple, good news for the Tablet, and good news for you.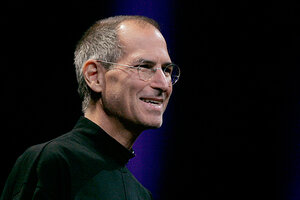 Kimberly White/Reuters/File
The success of the Apple Tablet – or the iTablet or the Apple Canvas, depending on which blog you're reading – will likely have nothing to do with hardware. The Tablet won't rise or fall exclusively on the basis of its durability, or even the resolution of its touch-screen. What matters is the applications: the quality and quantity of the downloadable programs created for the Apple Tablet by third-party developers. (When is the Apple tablet announcement? Check out our liveblog list here.)
So if you're looking for a prediction of how the Tablet will fare, you need look no further than a new report from Appcelerator, an app development company based in California. In a survey of 554 developers, 90 percent of developers said they were "very interested" in building for the forthcoming Apple Tablet. Doesn't sound particularly surprising at first. After all, the iPhone is a favorite platform for developers. Why not the Tablet?
---