What's wrong with Google Buzz?
(Read article summary)
This week, Google rolled out a new social media platform. But not everyone is in love with Google Buzz.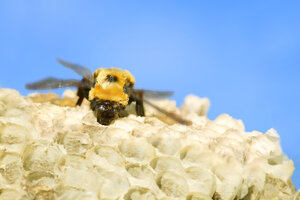 Newscom
It's getting to the point where it's tough for any new technology to get a fair shake from reviewers – by the time the thing gets rolled out, it's been chewed up and spit out a dozen times over. It happened with the Droid, it happened with the Apple iPad, and it's happening with Google Buzz, the social media platform launched this week by Google.
The loudest complaints have to do with the privacy settings on Google Buzz. As Horizons blogger Andrew Heining reported yesterday, some bloggers have argued that the "Autofollow" setting on Google Buzz could unnecessarily violate some users' privacy. Others worry that the GPS functionalities on Google Buzz mobile go a little too far. (Google's Todd Jackson says Google is tweaking the settings on Buzz to increase privacy control.)
Then there are the folks who say that the excitement surrounding Google Buzz is a little overblown. Over at CNET, Caroline McCarthy says we've passed the point where the rise of one social media platform proceeds the death of another. Twitter, she points out, is growing fast, but thus far, Twitter hasn't stolen anything from Facebook. It's an interesting point, and McCarthy defends it well.
---