Apple iPad lassos AP, Conde Nast for special apps
(Read article summary)
The Apple iPad launches in a few weeks. In the meantime, media companies such as the AP and Conde Nast are positioning themselves to benefit from Apple's latest device.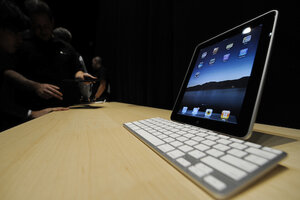 Newscom
We're about four weeks from the launch of the Apple iPad, a device that may reshape the media landscape. And already, content producers are lining up to get a bite: The New York Times has signaled that the iPad will become a major part of its digital strategy, as have HarperCollins and Hulu, the popular video streaming site.
Now two more major outlets, the Associated Press and Conde Nast, have said they will target users of the iPad and other e-reading devices. In a statement released today, the Associated Press unveiled AP Gateway, which will allow the wire service to sell articles and videos directly to readers. Meanwhile, Conde Nast, the publisher of the New Yorker and Wired, among other publications, announced it will provide content specifically designed for the iPad's screen.
"No longer do we have to be held hostage to the constraints of a Web site," AP exec Tom Curley said of the iPad in a speech to the Colorado Press Association last month. "We won't have to depend on consumers finding our sites among overflowing bookmarks or keyword [searches]. We can deliver news directly to the consumer in exciting new ways."
---
Follow Stories Like This
Get the Monitor stories you care about delivered to your inbox.