How to restore trophies lost during the Sony PlayStation Network problem
(Read article summary)
The PlayStation Network problem has passed, Sony says. But some issues remain, including missing PS3 trophies.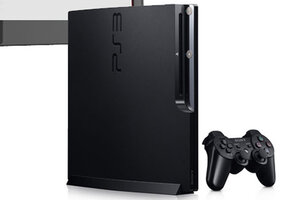 Sony
Seems Sony didn't need to patch the PlayStation Network problem that struck Sunday night. The PS3 bug corrected itself. It is now safe to turn on the video game console.
"We are aware that the internal clock functionality in the PS3 units other than the slim model, recognized the year 2010 as a leap year," Sony posted to its PlayStation blog last night. "Having the internal clock date change from February 29 to March 1 (both GMT), we have verified that the symptoms are now resolved and that users are able to use their PS3 normally."
The malfunctioning clock wreaked havoc for gamers both on and offline yesterday. First, players lost access to Sony's online features. Then, single-player, offline games refused to launch because they "failed to install trophies." In some cases, the PS3 would even erase a player's hard-earned trophies. (We collected a full list of problems here.)
The Sony Apocalyps3 – as some forums have dubbed it – is over. But if any symptoms still linger, here's some advice on how to fix them.
---