Welcome to Google, the new capital of Kansas
(Read article summary)
Google is looking for a test market for a new broadband service. In an attempt to get its attention, the mayor of Topeka, Kansas, has temporarily renamed his city Google – "the capital city of fiber-optics."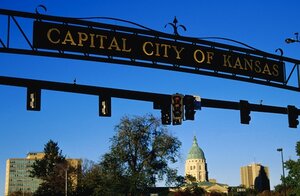 Newscom
Let's say you're the mayor of Topeka, Kansas. Times are tough. The economy is still in turmoil; unemployment is high. You've heard about Google's plan to test ultra-high speed broadband in at least one US market. If Google picks your town, you'll get publicity, you'll get broadband service to at least 50,000 people, and hey – you might even get a few jobs out of it.
So how far would you go to lure Google to town? If you're anything like Bill Bunten, the mayor of Topeka, you might go as far to temporarily change the name of your city. That's right, folks: For the month of March, Topeka, Kansas, has been dubbed Google, Kansas, "the capital city of fiber-optics." According to the Topeka Capital-Journal, Bunten raised the issue at a recent council meeting at City Hall. He was met with no objections.
"I support pushing the 'send' button," Councilman Jeff Preisner said at the meeting.
---
Follow Stories Like This
Get the Monitor stories you care about delivered to your inbox.