Sony puts Apple in its crosshairs
(Read article summary)
According to a new report, Sony will build an online marketplace similar to iTunes, along with a flatscreen tablet device. But does Sony really pose a threat to Apple?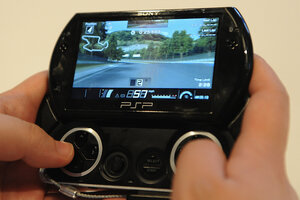 Newscom
Poor Apple.
Build a top-selling smart phone and a wildly popular marketplace for music and applications, and what do you get? Only a big target on your back. According to the Wall Street Journal, the latest challenge to Apple will come from Sony, which plans to market an iPad-like device, a new smart phone – a kind of "PSP phone" – and an expanded version of its Sony Online Service.
The timing is propitious. Sony CEO Howard Stringer has presided over a grim period in the company's history – Sony recently announced plans to shutter 10 manufacturing plants and lay off 8,000 workers. Meanwhile, sales of the new PSP Go – a sleek, stripped-down version of Sony's popular PSP video game system – have sagged.
---