Final Fantasy 13 review roundup
(Read article summary)
The Final Fantasy 13 review scores are in. Here's what critics though of Square Enix's new role playing game.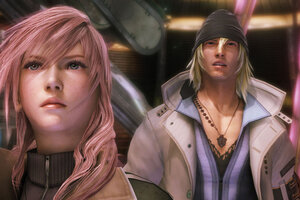 Square Enix
As Final Fantasy 13 reviews rolled in over the last few weeks, critics kept employing a certain word to describe the game: crossroads. Reviewers used the term to encapsulate the game's development, the history of the role playing game genre, and the waning importance of Japan in the video game industry it created. But it's an ironic choice of words considering Final Fantasy 13 (already an oxymoronic title) is perhaps the most linear game in the series.
Gone are the hours of exploration found in Final Fantasy 12, the turn-based battle system of Final Fantasy 10, and the sprawling towns found in every Final Fantasy since the original. To hear more, let's turn it over to our review roundup.
The linear path
Final Fantasy 13 "approaches the concept of 'role-playing games' with ruthless pragmatism, lopping off hunks of RPG tradition like a doctor operating on a terminally gangrenous patient," writes 1UP in its glowing review. "Free-roaming exploration too difficult to implement properly? Chop -- there goes the nonlinearity. Micromanaging turn-based combat bogs down the pacing of battles? Snip -- let the AI handle it. On paper, these cuts make FFXIII sound awful: The total abandonment of everything that fans enjoy about the series.... It's unquestionably a huge departure for the series, but taken on its own merits, it works."
The combat system
---