Is 'Power Gig' the next step for music video games?
(Read article summary)
As sales of 'Guitar Hero' and 'Rock Band' continue to slip, Seven45 studios introduces 'Power Gig: Rise of the Sixstring," which ships with a real electric guitar.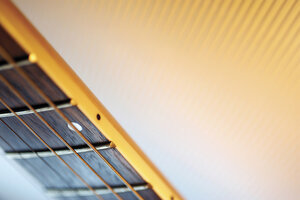 Newscom
Tired of jamming down on a multi-colored plastic fretboard? Seven45 feels your pain. This week, the Boston-based production studio unveiled a video game called "Power Gig: Rise of the Sixstring," which will ship with – wait for it – an actual electric guitar. Players can reportedly use the guitar as a controller in the game, or plug the thing in an amp, and create real, live guitar music.
The game will be available this fall for the PS3 and Xbox 360; no word yet on price.
"We saw the advent and success of these music-based video games," Seven45 rep Jeff Walker told USA Today. "We feel really confident that this is the next natural evolution." Walker has a point. Although the "Guitar Hero" and "Rock Band" franchises are pretty fun, the platforms leave little room for improvisation. Unless you reprogram the plastic axe as some geek rockers have, you're handed a script, and if you stick to it, the music pours out of the television speakers. It's a thrilling idea with diminishing returns.
---