Xbox 360's Natal will bring 'brilliant innovations,' Sega exec predicts
(Read article summary)
As Microsoft and Sony gin up support for their motion-control systems, a Sega exec says both Project Natal for Xbox 360 and the PlayStation Move will be bolstered by top-notch content.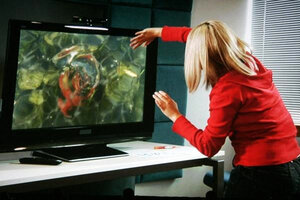 Newscom
Xbox 360's Project Natal and the PlayStation Move aren't expected to launch until this fall, but already Microsoft and Sony are jostling for position in the motion-control market. Earlier this week, Sony released an advertisement promoting the Move and lambasting the Nintendo Wii and the controller-free Project Natal. Now, a high-ranking exec at Sega is predicting that the Natal will draw some top-notch content.
"My guess is that in the next two years plus, you will see some brilliant innovations [with Natal]," Michael Hayes, the president of Sega West, said in an interview with the gaming magazine CVG. Hayes went on to stress that Sega would be supporting both Project Natal and the PlayStation Move – he said that his company would release "several" games compatible with the systems "from around the end of this year and into 2011."
---