Apple iPad edition of Wall Street Journal could cost $18 a month
(Read article summary)
According to one report, the Wall Street Journal could charge $17.99 a month for access to an Apple iPad-friendly edition of the business broadsheet. Some bloggers say the price tag – no matter how high the quality of the iPad content – is too steep.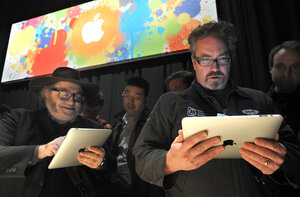 Newscom
Rightly or wrongly, the Apple iPad, which hits store shelves in a little over a week, has been linked to the salvation of the media industry. If the iPad succeeds, the logic goes, newspapers and magazines across the globe could have a ticket out of years of slumping newsstand sales and plummeting ad revenue. But today, some tentative details of the first major subscription plan for the Apple iPad were revealed – and not everyone is impressed.
According to new reports, the Wall Street Journal will charge $17.99 a month for access to an iPad-friendly version of the popular business broadsheet. That's cheaper than a monthly subscription to the print edition of the Journal, which currently costs about $29 a month, but significantly more expensive than plain old online access to the Journal, which will set you back $1.99 a week.
Over at MacWorld, Marco Tabini speculates that the discrepancy between the Web and iPad subscription models could have something to do with content.
"[P]erhaps the iPad version of the Journal will sport some exclusive features that are not available anywhere else," Tabini writes. "Or the final pricing model may include special offers and different subscription options (such as an annual subscription for an even lower rate); or maybe Rupert Murdoch has simply decided that iPad users will be willing to pay a premium to get his publication's content on their brand new devices."
---