Line2 app pulled by Toktumi after computer attack
(Read article summary)
Having trouble finding the Line2 app on the iTunes store? Apple didn't yank Line2. Toktumi did.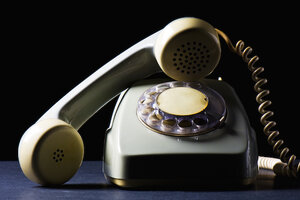 Newscom
Early this morning, the Line2 app, an iPhone application developed by a company called Toktumi, rocketed up the charts, likely thanks to an enthusiastic write-up by the New York Times columnist David Pogue. But a couple of hours ago – just as everyone in America scrambled to try out Line2 – the app vanished from Apple iTunes. Did Apple yank Toktumi Line2 from the store?
Nope. According to Peter Sisson, the founder of Toktumi, Line2 recently came under a blistering denial-of-service attack, the same kind of crippling cyber scam that has brought down a handful of popular sites in the past. Mr. Sisson told Henry McCracken of Technologizer that he made the executive decision to take Line2 offline – that way thousands of consumers won't have a bad first experience with the much-buzzed-about app.
---