Google background images offer new styles for your homepage
(Read article summary)
How to set your own – but is there any way to remove Google background images?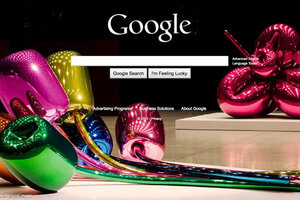 Google
Update: Looking for ways to remove Google background images? We've got three solutions here.
Google background images have taken over. This new feature, introduced last week, allows users to set their own background picture for the Google homepage. To show off the new function, the search engine took the liberty of deciding for you – at least for today. How "Bing" of them.
"Whether you choose a photo of a loved one, a picture of your favorite vacation destination or even a design you created yourself, Google.com is now yours to customize," reads Google's official announcement.
But if Thursday's default pick, glossy sculptures by Jeff Koons, don't fit your personal style, don't worry. Here's how to select your own picture.
Step 1: Start off by thinking of a few pictures that you'd want staring back at you every time Google.com opens. Now go through a quick weeding-out process. A closeup of kids' faces might not be the best choice, because Google's logo and search bar might cover up their smiling mugs. Similarly, consider skipping images where all of the action takes place in the center of the shot. Landscapes work well – maybe a nice vacation shot? Once you've picked an excellent candidate, save that image to your desktop.
Step 2: Head to Google.com and click on the "Change background image" link in the bottom-left corner. This will open a window with all of the Google background options. Hit "Browse" to find the image on your desktop – or, choose "Public gallery" and "Editor's picks" to select from Google's free image gallery.
---