Is a Verizon Droid 2 on the way?
(Read article summary)
A Motorola-built, Verizon-powered Droid 2 has reportedly been spotted in the wild. According to one blog, Verizon could release the Droid 2 as soon as this year.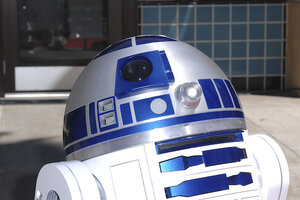 Newscom
If you were reading this blog late last year, then you know we made a massive fuss over the Droid, a next-gen smartphone built by Motorola and powered by Verizon. The Droid burst onto the scene with a major marketing push from Verizon, and landed some decent reviews, but the Droid lost its share of the limelight (the arrival of a brand-new iPhone 4 certainly isn't making things easier for Verizon).
Now comes news – or at least speculation – that Motorola is planning to release a Droid sequel, which could address some of the keyboard quirks on the first iteration. According to the folks at Droid Life, the Droid 2 is likely to use the same 3.7-inch display as the first Droid. But the copper square touchpad is gone, some of the sharp edges of the first Droid have been rounded, and the keys – which seemed unresponsive to some users – look softer.
---