iPhone 4 preorder date pushed back after reports of security breach at AT&T
(Read article summary)
iPhone 4 preorders are no longer accepted by AT&T. The Apple Store is still accepting iPhone 4 preorder requests, but the ship date is now July 2.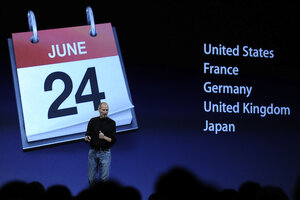 Newscom
They're calling it the iPhone preorder iPhonecalypse. After hitting a few early snags out of the gate, the iPhone 4 preorder system at the Apple Store temporarily ground to a halt sometime Tuesday night, sending hundreds of thousands of iPhone fanatics around the globe into a frenzy. Meanwhile, AT&T has stopped taking iPhone 4 preorder requests altogether.
On Wednesday, Gizmodo reported that a glitch in AT&T's iPhone preorder form – possibly related to "a major fraud update that went wrong" – has exposed scads of private user information. Several Gizmodo readers claim that when they attempted to log onto the AT&T preorder sub-site, they were directed to another user's AT&T account. (AT&T reps told Gizmodo they have been "unable to replicate the problem.")
The iPhone preorder forms appeared to be back online at the Apple Store as of Wednesday morning – we were able to punch in our info without any major problems. Still, the ship date for the boxy, feature-heavy iPhone 4 has been pushed from June 24 to July 2, and the mystery of the white iPhone 4 remains unsolved.
---