Nintendo 3D home console could follow Nintendo 3DS
(Read article summary)
Nintendo, 3D: So happy together. The company hinted that it will eventually build a 3D home console. For now, Nintendo lovers will have to be satisfied with the Nintendo 3DS, a next-gen handheld that wowed E3 last week.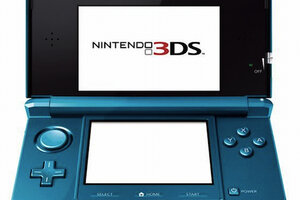 Newscom
Nintendo will make a 3D home gaming console to compliment the forthcoming Nintendo 3DS – just don't expect it anytime soon. That's the news from the folks over at CVG, who report that Nintendo could at some point begin to produce a full-featured 3D video game system.
Still, Nintendo president Satoru Iwata says a 3D Nintendo Wii won't be built until more consumers express interest in 3D TV sets.
"Considering the current penetration rate of 3D television sets in ordinary households, we don't think that there's much reality in creating a new hardware system that would support 3D visuals as a home console," Mr. Iwata reportedly said to investors last week. But like director James Cameron, who has also worried that 3D technology is outpacing demand and content, Iwata said that Nintendo wouldn't hesitate to dive into the 3D fray when the timing was right.
"At some point in the future, when the installed base for 3D televisions is such that it's no longer a rarity for people to have one, then certainly, when that point in time comes, whichever console Nintendo would release at that point would most likely take advantage of 3D technology," Iwata said.
---
Follow Stories Like This
Get the Monitor stories you care about delivered to your inbox.