Motorola Droid X review roundup
(Read article summary)
Motorola Droid X, the latest handset in Motorola's popular Android lineup, is set to launch on July 15. We sift through the early Droid X reviews so you don't have to.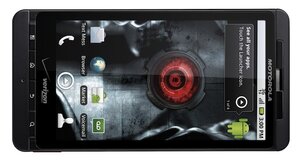 Newscom
Laid low by the dreaded iPhone 4 death grip? You've got some options. You can sign up for a class action lawsuit against Apple. You could go into an Apple store and complain about the reception. Or you could put down the iPhone 4 and pick up a Verizon Droid X instead. The Droid X, the latest handset in Motorola's popular Android line, is scheduled to hit stores on July 15 – and according to the first batch of the reviews, this phone's a doozy. Let's go to the scorecards.
Display
As we've mentioned before, the Droid X is packing a 4.3-inch high-resolution display. Those dimensions "may not sound huge, but for a cell phone this is fairly enormous," writes the AP's Rachel Metz. Moreover, "the Droid X's screen isn't just large; it's also brilliant and crisp. It's really fun to watch videos on it, read Facebook status updates from little on-screen 'widgets,' check e-mails and poke around online. Colors look bright, and text is easy to read."
---
Follow Stories Like This
Get the Monitor stories you care about delivered to your inbox.