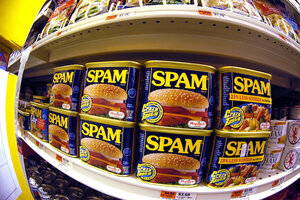 Newscom
Earlier this week, Apple launched a platform called Ping, which is built into the latest iteration of iTunes. Ping is a sort of Facebook or MySpace for iTunes people: You can use the service to share your favorite songs and videos, suggest content to friends, and search for concerts and events in your area. But Ping has gotten off to a rocky start.
First, Mashable reported that many people were having problems accessing Ping. Then were some integration issues with Facebook. Now comes news that Ping is being flooded by spam messages – many of which, ironically, appear to be the kind of iPhone and iPad advertisements that so often show up on Facebook feeds.
---
Follow Stories Like This
Get the Monitor stories you care about delivered to your inbox.