Epic Mickey: What is it, and when does it arrive?
(Read article summary)
Epic Mickey marks a new direction for Mickey Mouse.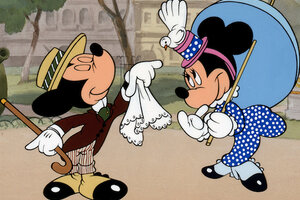 Newscom
Epic Mickey – it sounds like a skateboard move. Actually, it's a game for the Nintendo Wii, and although Epic Mickey is still a few months out – release date is now set for Nov. 30 – the title is already drumming up a lot of interest among gamers of all stripes. Here's the gist: In Epic Mickey, you steer the famous Disney character through a kind of cemetery of faded cartoon icons.
Your only weapons are a paintbrush and paint thinner, which you can use to create new objects or destroy impediments placed in your path. (Think of Epic Mickey like the video game answer to Browning's "Childe Roland to the Dark Tower Came.") An Epic Mickey trailer posted to the Entertainment Weekly site showed a dark, phantasmagoric world, peopled by lurching monsters and evil sorcerers.
Disney has hinted that Epic Mickey is kind of a reboot for the beloved character – one that takes him from cute and cuddly cartoon icon to brave and embattled warrior. The questions now are manifold: Will Disney turn off potential gamers who prefer the Mickey of old? Will the game be dark and intriguing enough to appeal to "core" gaming audiences? And, perhaps most importantly, given flagging interest in the mouse, does Disney have a choice?
---