PSP2 is on the way, developer says
(Read article summary)
PSP2 – an update to the Sony PlayStation Portable line – is forthcoming, one developer says. And the PSP2 is 'a pretty powerful machine.'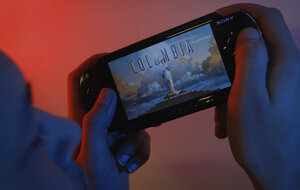 Newscom
Sony has built a prototype version of a PSP2 – a next-generation handheld gaming device – and the company is already handing out units to video game developers. That's the word this week from Netherrealm, the studio responsible for the Mortal Kombat franchise. According to Netherrealm executive producer Shaun Himmerick, the studio has its own PSP2, and it's a doozy.
"We have a PSP2 in the house and we're looking at the engine, like what can it support," Himmerick told Industry Gamers. "Always a big thing for us is the performance," he added. "PSP2 looks like it's a pretty powerful machine." Industry Gamers said it would post the full interview with Himmerick soon, and noted that previous PSP2 rumors estimated a release date of sometime in 2011.
---
Follow Stories Like This
Get the Monitor stories you care about delivered to your inbox.