Verizon iPhone: For consumers, the sooner the better
(Read article summary)
A Verizon iPhone is not yet a done deal. Still, anticipation remains high.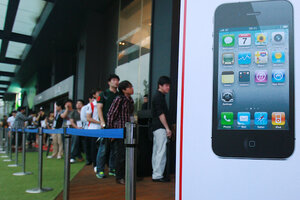 Newscom
Verizon iPhone, where art thou? According to a new study by Credit Suisse, 23 percent of iPhone users – 1.4 million people – would readily drop AT&T for Verizon, the carrier that currently powers the popular Droid lines. Still, only 3 percent of consumers would cancel their contract with AT&T and sign up directly with Verizon. The vast majority of iPhone users would wait until their AT&T contract had expired.
Rumors of a forthcoming Verizon iPhone have been circulating for months. "Sources with knowledge of this entire situation have assured me that Apple has submitted orders for millions of units of Qualcomm CDMA chipsets for a Verizon iPhone run due in December," TechCrunch's Steve Cheney reported back in August. So is a Verizon iPhone really coming? Well, the buzz is certainly high.
---