Netflix eyeing stream-only service in the US
(Read article summary)
Netflix CEO Reed Hastings said in a blog-post that Netflix was examining the possibility of stream-only service to American consumers.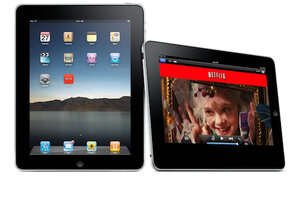 Newscom
Earlier this month, Netflix began offering stream-only service – at a rate of $7.99 a month – to consumers north of the border. No discs. No red envelopes. Just online movies and TV shows. Analysts have billed this Canadian expansion as a kind of test run for Netflix, which was previously offering streaming video exclusively in the US.
"The company will determine whether or not there's opportunity for other countries based on its Canadian performance," notes ReadWriteWeb's Sarah Perez, who participated in a conference call with Netflix execs.
Now Netflix CEO Reed Hasting is hinting that a wider roll-out of streaming service could happen by soon as the end of this year. "We are looking at adding a streaming-only option for the USA over the coming months," Hasting wrote in a blog post today.
At this point it's worth noting that US consumers can currently pay $8.99 a month for a DVD-by-mail option – an option which also includes unlimited streaming video. In other words, the difference between the Canadian plan and the current cheapest US plan is only one dollar. And plenty of people – like this humble Horizons blogger – use the DVD-by-mail plan AS a streaming-only plan. How do we do that?
---