PlayStation Move off to strong sales start
(Read article summary)
PlayStation Move is selling fast in Europe and the Americas, Sony announced today. Could the PlayStation Move be the next Nintendo Wii?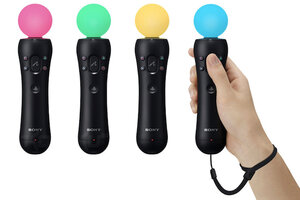 Newscom
PlayStation Move, a new motion-sensing peripheral for the Sony PlayStation 3, is a hit among gamers in the Americas – to the tune of 1 million units sold in just one month. That's the news today from Sony HQ, which says that it is struggling to keep up with consumer demand. "We had to go back and increase production twice, we're absolutely maxed out right now," Sony exec Jack Tretton told Reuters today.
Tretton said that Sony expects shortages to continue through February of 2011. According to Reuters, the Move is available at 30,000 retail outlets in the Americas; the device recently launched in Japan, and has sold upward of 1.5 million units in Europe. These numbers are good news for Sony, which had looked to the Move to help reverse months of sagging hardware and software sales. (Read our full rundown on the new crop of motion-sensing devices.)
---
Follow Stories Like This
Get the Monitor stories you care about delivered to your inbox.