Fable 3 review roundup
(Read article summary)
Fable 3 hit store shelves this week. So are the critics saying about the latest installment in the popular Fable series?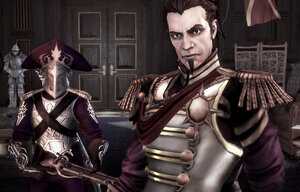 Newscom
Fable 3 hit store shelves this week, and the game – which features voice work from the likes of former Monty Python stalwart John Cleese and British actor Stephen Fry – is earning solid marks from critics around the globe. For a full re-cap of the prior Fable adventures, you can get caught up here. In the meantime, let's check the scoreboards.
Over at the UK Guardian, Greg Howson gives Fable 3 a four out of five star review. "Like the other two games in the series, this is ostensibly an RPG but one that focuses on action and interaction rather than fiddling with stats," Howson writes. "Fallout fans, for example, will scoff at the simplistic weapon upgrades but they would be missing the point. Fable is much more about what you do than how you do it, and never more so than in Fable 3."
Meanwhile, the kids at Loot Ninja say Fable 3 – which like Fable and Fable 2, allows players to make a series of "moral" decisions that will directly influence the direction of the plot – looks better than ever. "Right away, you will see how good Fable III looks. By far the best graphically in the series. The character models are much improved from Fable 2 as well as their interaction," Loot Ninja notes.
---