Kinect sales top 2.5 million: Microsoft
(Read article summary)
Kinect for Xbox 360 continues to draw interest from consumers.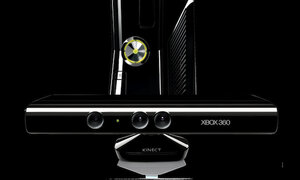 Newscom
Kinect is a hit among consumers – to the tune of 2.5 million units sold worldwide. That's the news this week from Microsoft, which says its motion-sensing peripheral performed especially well during the Black Friday rush and the post-Thanksgiving weekend. (Click here for a full review round-up of the Microsoft Kinect.)
In a press release, Microsoft exec Don Mattrick said his company was "working hard with our retail and manufacturing partners to expedite production and shipments of Kinect to restock shelves as fast as possible to keep up with demand. With sales already exceeding two and a half million units in just 25 days, we are on pace to reach our forecast of 5 million units sold to consumers this holiday," Mattrick added.
Over at Mashable, Ben Parr wonders if the Kinect, which hit shelves only 25 days ago, qualifies for smash-hit status.
---
Follow Stories Like This
Get the Monitor stories you care about delivered to your inbox.