iPhone on Verizon: Big trouble for Android?
(Read article summary)
Verizon iPhone hits the market in February. Some analysts think this second iPhone could draw consumers away from the rising Android army.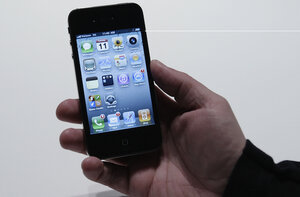 Newscom
Common sense has that it the Verizon iPhone, which was announced recently and should hit shelves by February, will do extensive damage to AT&T. Makes sense: For years, AT&T has had an exclusive deal with Apple to sell the iPhone. That now-shattered exclusivity meant big bucks for AT&T, and plenty of headaches for disgruntled AT&T customers unable to switch carriers.
A Verizon iPhone, the logic goes, will be a magnet – or a beacon; choose your metaphor – attracting former AT&T users, along with a large swath of Verizon customers who have long lusted after an iPhone of their own. But could the Verizon iPhone also spell trouble for Android, Google's popular mobile operating system? The short answer: yes.
---