iPhone users receive free mini cellphone towers from AT&T
(Read article summary)
AT&T iPhone users may qualify for a free MicroCell, which acts as a personal cellphone tower. But there are a couple of catches, according to a report.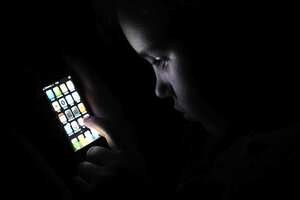 Newscom
The Verizon iPhone will hit store shelves next week, and as we recently noted, the long-awaited device has received rave reviews for its clear, consistent voice service. Of course, clear and consistent service is what some AT&T customers have long lacked, and since the official unveiling of the Verizon iPhone, AT&T has been scrambling to ensure that its customers don't jump ship.
The latest tactic: Free MicroCell units.
(What's a MicroCell, you ask. It basically acts as a mini cellphone tower. Learn more about their ups and downs here.)
According to Ars Technica, AT&T has offered at least a handful of iPhone users a coupon for a MicroCell, which helps improve 3G service in a small area, such as a cubicle or an office. There are caveats, of course: to qualify for the MicroCell, you have to agree to stay with AT&T for another year. If you bail on AT&T before that year is up, you'll pay a pro-rated fee for the MicroCell.
---