Motorola Xoom review roundup
(Read article summary)
Motorola Xoom hits stores this week. And we have the reviews.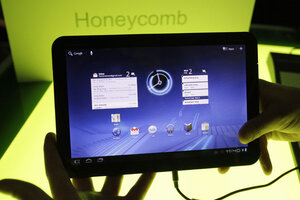 Paul Sakuma/AP/File
Motorola Xoom hits store shelves this week, and not exactly for a budget price – consumers can shell out $800 for an unsubsidized Xoom or $600 for a Xoom and a two-year Verizon data package. But then again, this isn't a lightweight machine: The Xoom is powered by the Android 3.0 Honeycomb OS, and comes equipped with 1-GHz dual-core Nvidia Tegra 2 processor, a 10-inch HD display, and a pair of cameras.
So what do reviewers have to say about the Xoom?
Let's start with the device itself, which is apparently a little overweight. "A lift with an index finger takes a surprising amount of strain," writes Andrew Nusca of ZDNet. "It may be just a half-inch thick in the center, but at 1.6 lbs., it weighs in as heavy as a paperback copy of James Joyce's Ulysses. (Imagine hauling that back and forth to the office.)" Indeed. The screen on the Xoom clocks in at 10.1 inches, just a smidgen bigger than the iPad.
ALSO SEE: 10 most intriguing tablets of 2011
---