iPhone 5 rumors already percolating
(Read article summary)
iPhone 5 – the next-generation Apple iPhone – may get NFC technology for credit card-like in-store payments.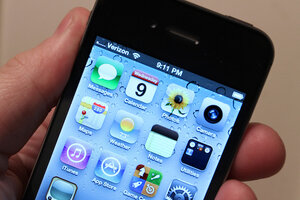 Newscom
Rumors, buzz, release, repeat. For the past few years, most Apple releases have followed that simple (and predictable) formula – rumors build (most of them correct); the buzz roars through the blogosphere; Apple finally launches the device in question, quashing all speculation; and then a new device looms on the horizon, which provides plenty of grist for the tech gossip mill.
The last couple cycles have been big ones: The iPhone 4, the Verizon iPhone, the iPad 2. And now, it looks like we're ready to start the cycle up all over again. According to a handful of new reports, the Apple iPhone 5 – which would presumably be released sometime this summer – is already in the works, and the next generation iPhone could be equipped by Apple with NFC technology.
ALSO SEE: Verizon iPhone? Check. Sprint and T-Mobile iPhone? Maybe.
---