Windows 8 is coming, and it will be wrapped in Ribbon
(Read article summary)
Windows 8 has not yet been announced. But if Windows 8 did exist, it might include the Ribbon interface.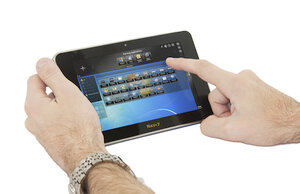 Newscom
Last we heard, Windows 8 – the latest, and as of yet technically imaginary iteration of the Microsoft OS – was being doled out in advance to some PC vendors. Now comes a rumor that Microsoft could be doing away with the traditional drop-down menu in favor of the Ribbon, a functionality which displays information via an array of tabs. (Think horizontal.) Which sounds pretty good by us.
"If Microsoft goes through with this change, the Ribbon will replace the menu and toolbar in today's Explorer windows, and as in Office, it will make many more features visibly discoverable, albeit at the expense of onscreen real estate and, we think, attractiveness," write Rafael Rivera and Paul Thurrott of Within Windows, who posted a bunch of screenshots that allegedly show the new Windows 8 interface.
---