Commodore 64 resurrected and rebooted
(Read article summary)
Commodore 64 helped jumpstart the computer revolution. Now, the vintage machine is making a comeback. Can the Commodore 64 rise again?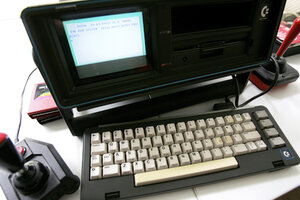 Newscom
The Commodore 64 – an 8-bit machine kitted out with what's now an underwhelming 64 KBs of RAM – helped jumpstart the age of the personal computer. And now, almost three decades since the release of the C64, Commodore is releasing a new version of its famous computer, which retains the retro looks of the original, and adds a range of next-generation firepower, including an Intel Atom dual-core processor and a Nvidia Ion graphics chipset.
"It looks just like the original Commodore 64, with even the old-style keyboard," Barry Altman, chief executive of Commodore USA, told the Los Angeles Times this afternoon. "In fact, that keyboard was the biggest accomplishment of all, so far. The keys look like a piece of clay that you pushed a marble into – so it fits your fingertip."
RELATED: Call of Duty: Black Ops outsold the top movie, book, and DVD by how much?
---